Connect with your social network account
Moderator: Moderators
Bonghead

Posts: 140
Joined: Tue Jun 08, 2010 1:35 am
Location: "CALI"
Contact:
This is my first time ever growing a plant. I done my research before growing and I done everything to my own discretion after reading up on the subject. This plant is what I came up with. I just want to get some feedback on this plant to see how well I'm doing. This plant is in the 8th week of flowering. I kept the temps between 73-78F. I am using 4-2ft. flo tubes up top and 2 spiral cfl's on opposite side for side lighting. I used dyna-gro grow nutes for veg. and dyna-gro bloom for flowering so far. It has been on a 12/12 light cycle for 8 weeks now, does that mean it is 8 weeks flowering or does that mean 2 weeks preflower and 6 weeks flowering????? Help me out people...lol. Seriously though, I would like to hear what people think about this plant. I got the seed out of a local bag of mid grade. I believe by the looks of it that it is a sativa dominant...not sure though this is my first time and all. Pics attached. The pic up top is the cola bud and I'm a little worried by the looks of it. The hairs aren't changing color as fast as the other buds.....what could that be????? I'm thinking it could be because it is the top and it isn't done growing upward yet.... is this possible????
Attachments

hope 002.jpg (141.5 KiB) Viewed 1171 times

hope 005.jpg (146.62 KiB) Viewed 1171 times

hope 001.jpg (146.91 KiB) Viewed 1171 times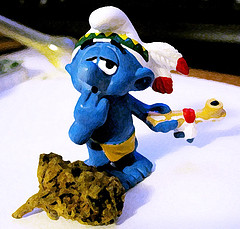 ---
Tetrahydrocannabinologist

Posts: 14627
Joined: Sun Mar 30, 2003 1:31 pm
Location: Canada
Contact:
You start counting the weeks of flowering from the day you out your plants on 12/12

The best way to know if it's ready is to get that magnifier you mentionned in another post.

The hairs are your buds are turning red which is a sign it's on it's way to being ready for harvest though the buds don't look very compact. Though this would be normal considering they are only under flurous

I'm pretty sure it looks sativa dominant too.
---
Users browsing this forum: No registered users