Connect with your social network account
Moderator: Moderators
Ganja God

Posts: 6639
Joined: Tue Jul 16, 2002 6:07 pm
Location: south
Contact:
The norwegian sensation, 16 year old Vajebah Sakor, recently underwent a medical at Piedmont and has since signed a one year deal with Juventus. Making his debut in the second flight of Norwegian football aged just 15, the central midfielder has gone on to impress during loan spells with Copenhagen and Rosenberg, for the latter starring in their successful group stage of the NexGen series.
Arsenal were after him, as were Man City and Liverpool Scum. He wasn't short of admirers. So well done Beppe, Paratici and their gang of scouts.
---
Herbal Assassin

Posts: 978
Joined: Fri Aug 18, 2006 12:38 pm
Location: Norway
Contact:
Rosenborg*

I also found it quite amusing that the norwegian newspapers wrote that "Sakor chooses Juventur over Rosenborg" (paraphrased) Like it was some kind of surprise. Of course he'll be going to Juventus... I just hope he turns out to become an excellent player at that level and doesn't come scurrying back home when they found out he's not that good after all. And that he doesn't change his citizenship so he can play for Norway.
---
Ganja God

Posts: 6639
Joined: Tue Jul 16, 2002 6:07 pm
Location: south
Contact:
A better introduction, Sugar...

Vajebah Sakor
Age - 16 (DOB 24/4/96)
Position- CM
Previous clubs- Asker, Rosenborg (on loan)

Young, black, Norwegian and ultra talented...the first three words combined are an oddity, but adding the last two makes Vajebah suddenly of great interest to us juventini, along with the fact that we recently signed him of course.

Making his debut in the second flight of norwegian football aged a remarkable 15, unsurprisingly breaking the record for the youngest debut age in Norway's professional leagues, Vajebah was tracked as early as last summer by Milan. His team, Asker, loaned him to Rosenberg in order to further his development, and the central midfielder promptly became a star in their primavera squad, producing several quality displays in the NextGen series, helping them finish a very respectable joint 1st spot with Inter, in a group which also included Liverpool and Borussia Dortmund. Funnily enough our own primavera have drawn Rosenberg in the knock-out stages of the NextGen competition...

His performances for Rosenberg drew increasingly feverish interest from Liverpool, Man City and Arsenal, but from out of the shadows emerged Beppe, Paratici and their insiduous scouts, whisked the little blighter off to Piedmont and signed him up for peanuts.

Some facts which may be of interest...

Vajebah managed an impressive eight goals in a youth match earlier in his career, when facing the mighty Heggedal IL.

During his debut season for Asker, he made 8 first team appearances.

He was in Italy in March of 2012, to train with AC Milan, from there heading back to his homeland to play with the Copenhagen youth team.

Already represented his country at U16 level and now a regular part of the U17 national team setup. The Norway U17 team sit in 1st position in their group in the UEFA u17 championships, Vajebah played in all three games, all won, against Iceland, Portugal and Malta.
---
Ganja God

Posts: 6639
Joined: Tue Jul 16, 2002 6:07 pm
Location: south
Contact:
I hope that he gets a chance with our primavera (u19) team, and maybe he will...but more likely perhaps, he will be thrust into the Berretti or Allievi squads (younger age groups) where he will in the least receive better coaching than he had in Norway and be playing against better opposition. I'd be surprised to see him make an appearance for the Primavera, for they are flying presently...extending their lead at the top of their U19 league, through to the next round of the italian cup and NextGen series knockout stage (where they face Rosenborg).

I like what I know so far. He has to have something about him to have been courted by some top clubs and a regular for Norway's u17 at such a tender age.

I will certainly keep you informed.
---
Ganja God

Posts: 6639
Joined: Tue Jul 16, 2002 6:07 pm
Location: south
Contact:
With almost half the first XI missing through injury and suspension, Conte once again absent from the sidelines and our opponents enjoying a praiseworthy season of mid-table certainty, the away fixture with Chievo looked tricky, but also perhaps, what we needed in order to recover momentum in time for a tricky and potentially decisive run of matches in February.

Any team would struggle with regular starters Marchisio, Chiellini, Bonucci, Asamoah, Vucinic all unavailable, but whilst we did at times struggle in the respectable, hard earned 1-2 victory, the general sense of control of proceedings was present almost throughout. Other than a patch after the interval when our play became disjointed and the flying donkeycoks went for the jugular.

Player ratings-

Buffon. Couldn't do much about the goal, made several classy saves ,marshalled the defence like an elder statesman, commanded his area well enough and showed brilliant enthusiasm and spirit when we scored our goals. No question that the juve fire still burns brightly in his soul. 7/10.

Caceres. I prefer Martin as a CB and thought he acquitted himself with maturity and competence over the course of the ninety minutes. Rarely caught out for pace or in the air, kept his distribution simple. Solid. 6.5/10

Barzagli. . The big man needed to step up a gear with two new defensive partners, both of whom need an older, calmer head around them. Andrea was everywhere, uncompromising in the aerial battles, calm and resolute in the tackle, constantly reading the play intelligently. He continues to be one of my favourite signings of the last few years. He offers assurance of quality. Especially pleasing to see him perform so majestically without Bonucci and Chiellini, and also make that wonderful run up the right flank and find himself in the area…7/10.

Marrone. I remain unconvinced by Conte's clairvoyance regarding Luca's future as a CB. He is young, and will need time to adjust to a new position. His tackling and covering were fine, positioning as larval as you would expect for a regista. It's a definite advantage to have him in the backline when Bonucci, our other ball playing defender, is absent. Still…for an unexperienced Serie A player, he was as reliable as an established defender in Caceres, so he deserves a pat on the back. Promising 6.5/10.

Lichsteiner. I can't see a future in this team for Isla, in a RWB position, whilst Lichsteiner remains at the club. The swiss nazi is more powerful, stronger, has greater tenacity in the tackle, covers more naturally and his engine is remarkable. No doubt he would be a better player as a RB in a back four, but even in the wingback role he is a phenomenal player. I don't know of any RB I would prefer, at least in Italy. He battled hard, took his goal beautifully, continued to get into attacking positions throughout the game. Admittedly, his final ball can often be poor, it's a small price to pay for the huge positives he brings to the team. We rarely suffer on the right flank when he plays. 7.5/10.

De ceglie. Paolino managed to put several of his trademark dangerous crosses into the box, spent next to zero time defending, found himself the wrong side of his man in the Chievo move leading up to their goal, produced no good tackles, got booked needlessly, proved once again that whatever position he is asked to play he will steadfastly remain in the final third on the flank, as a left winger or left wing forward. He looks clueless, his passing is cringe worthy, he has next to no ability to take a player on, his shooting is woeful. Perhaps I am mistaken in thinking he was expected to play at LWB. If so, the team looked a pretty odd shape…lopsided 4-3-3????? No, we were playing 3-5-2, it just de ceglie who changes the formation as soon as he steps foot on the field. I am long past the stage of cringing at his name even on the bench, let alone in the starting XI, and any game we win with him in the starting Xi must be considered a mighty success. For all his running and determination and 1-3 useful crosses into the box (which are NEVER directed at anyone in particular), he is not now, has never been, will never be a left wing back of enough common sense to be worthy of our squad, let alone starting eleven. Clueless…a constant liability. He looks even worse when we have Lichsteiner on the opposite flank. The major problem with De ceglie's complete absence of positional sense and inability to tackle, cover, head is that other players have to make up for his deficiencies…Pogba and Marrone had to play 1.5 positions each. If he was supposed to start at left wing, he would earn a 5. As a wing back, 3/10. A good athlete, but never a footballer. Too much time has now passed without even a hint of improvement. Feed him to the pigs…

Pirlo. Looking back to near his best. Well protected and supported by Pogba and Vidal. Showed his class on the ball repeatedly, making himself available, acting as a fulcrum for everything positive we did, and also covering in front of the defence with authority and intelligent positioning. An average game by Pirlo's standard still marks him out as a cut above the rest with the ball at his feet. It's good to see him back to full fitness. 7/10.

Vidal. The best I have seen of Arturo for a week or three, much of which was down to Lichsteiner's solid showing as well as a fit again Pirlo supported by Pogba. His delicate lofted through ball for Matri's opener was world class, with his hustling, stamina, passing and energy wonderful to behold for the entirety of his performance. He was enjoying himself…7/10.

Pogba. The Frenchman's task was made all the more tougher by having to make up for de ceglie's defensive amnesia. Less of an offensive threat than in previous weeks, but nonetheless a very solid display. He is growing in confidence and technique, learning well from his peers, developing a blossoming link with Pirlo to whom he clearly shows a respectful deference. Tidy, great in the challenge and supreme in the air. Whilst his positioning may need some work, it's too harsh to criticize given the different roles he is asked to play. Essentially, we can't ask much more of a 19 year old. 7/10.

Matri. Still a way off full match sharpness and marshalled carefully by the well drilled Chievo rear-guard. His goal was a delight, both the run and finish, which should do his confidence the world of good. Doesn't appear to mesh well with Giovinco, but then again who does??? I'd certainly rather see him start alongside the little imp than Mirko in his place, for his shooting is superior and work rate much higher. He also makes runs that don't come naturally to Mirko and Giovinco, the kind of runs creative players love to pick out with delicate through balls.…7/10.

Giovinco. Smart assist for Lichsteiner's goal, stretched the opposition defence leaving gaps for our midfield to exploit, showed good tenacity and a desire to stay on his feet. A few clever touches, but rarely looked like finding the net via his own boots, yet again squandering a couple of chances which begged for better technique. 6.5/10.

SUBS-
Quags. Was given a fair amount of time to make an impact but sadly produced very little. If January rumours of his sale had any substance to them, his mind may well be less focused than it needs to be if he is to spearhead a charge for a first team spot. I don't think his heart is in the Juve cause and a Summer move beckons. 6/10.

Isla and Padoin. A handful of minutes was not enough for Isla to carve his name into the records for this match, and like Padoin, he looks less apart of the team, cohesion wise, than any other player on show.

Conclusion.

We started positively, controlled the pace of the game, and dominated the first half. Heading into the break two goals to the good I expected a resurgent Chievo to appear when the ref blew for secondo tempo and the charge of the flying donkeys did indeed unsettle us. We missed Conte in the changing rooms and once the goal went in, through a mixture of poor defending and a well taken snapshot, there was an air of concern in our ranks. Thankfully, the likes of Pirlo, Vidal, Barzagli, Lichsteiner and Pogba continued to control large areas of the field, calming the storm and dropping the pace of the game back to a level where we were organized and superior. And we really should have made the game safe long before the final whistle blew…

We didn't play particularly well, were missing as many as five first team players, yet were in the driving seat for the majority of the game, scored two brilliantly taken goals, suffered no new injuries and showed good squad depth against a team coming off a brilliant away victory over Lazio. We will need to raise our game considerably over the coming weeks, with a home tie against Fiorentina, and two tricky away games versus Celtic and Roma all to come in the next fortnight.

Many positives to take out of a winning performance in a tough fixture. With Anelka in the squad, and Matri seemingly returning to a state in which his confidence is growing, our future in the striking department suddenly looks brighter. I just hope that Conte noticed the importance of having a prima punta, of having a player who instinctively makes runs into the box, between defenders. We look far more dangerous with Matri and Giovinco, than with Mirko and Giovinco, for our opponents don't need to deal with runs into the box other than from our midfielders. Creative and Creative isn't as potent as Creative and Finisher. We are more predictable without a prima punta, as are most teams…other than Barca.

MOM- Andrea Barzagli. Lacking two of the strongest defenders in Italy, he stepped up a gear and lead by example.


---
Ganja God

Posts: 6639
Joined: Tue Jul 16, 2002 6:07 pm
Location: south
Contact:
When asked of areas of weakness in the blossoming Conte Juve, the general consensus amongst juventini the world over points towards our attacking department. The defence is world class. Our wing backs are quality, the midfield is phenomenal, but in the final third...such superlatives are regularly absent. Whilst we all have our opinions on performance levels and its clear that statistics alone can rarely be used as sole indicators of value, in the case of strikers, whose prime work is focused on scoring and creating goals, the figures can prove useful. Its a lot easier to gain an accurate idea of how well a striker is performing from his stats, than it is with a midfielder, or defender when passing ranges, time on the ball, urgency of the challenge and many other factors come into play. So, without further ado, lets peek at what the season has told us so far in terms of our strikers getting the ball in the net.
(I have stuck with Serie A and Champions league performances, since the coppa italia is the only tournament in which we have not once put out our strongest team...I have also crunched the average for assists and goals combined)
Vucinic
8 goals and 5 assists from 1803 minutes in Serie A and Champions league - scores a goal/assists a goal every 138 minutes. (
1 goal per 225.4mins
)
Giovinco
9 goals and 7 assists from 1936 minutes in Serie A and Champions league - scores a goal/assists a goal every 121 minutes.(
1 goal per 215mins
)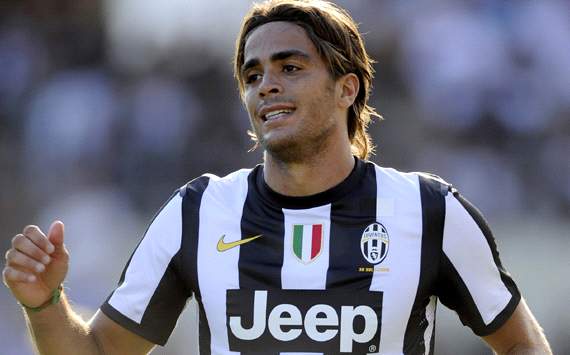 Matri
7 goals and 2 assists from 1012 minutes in Serie A and Champions league - scores a goal/assists a goal every 112.4 minutes.
(1 goal per 144.6mins)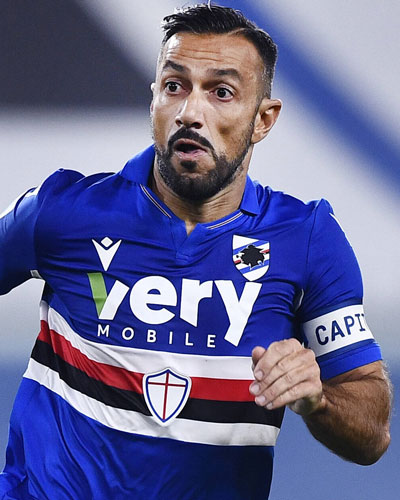 Quagliarella
10 goals and 2 assists from 949 minutes in Serie A and Champions league - scores a goal/assists a goal every 79.1 minutes. (
1 goal per 94.9mins
)
My expectations before making these calculations were that Mirko would come out the worst, as in he would prove our least efficient striker on paper. There is also the consideration of his duties on the field, for Conte's strikers are tasked with aiding defensively, which is always going to eat away at their opportunities to score and create goals. He has appeared, without the stats to be the weakest link of our major quartet in the offensive ranks. And the stats confirm this...For all his wonderful moments, there are many more moments of irritation. For all his smart runs, there are plenty more jogs and shimmys into nowhere. Never sure which Mirko is going to turn up, I would happily see him sold in the Summer, to make way for a player with either more consistent quality or greater potential and determination to succeed.
La formica atomica has been more efficient in the final third than Mirko. That much has been clear on the field, and the little man should be commended, not lambasted, for to be bettering a more established striker, in his first season in Conte's Juve is solid progress. He can still get better, and does seem to find himself in goalscoring positions at least once or twice in every game he plays. The difference between him and Mirko, given they are both more naturally SS type players is that his work rate and pace are already superior and he has potential to improve his shooting. Mirko is too long in the tooth to change now. Its been a big enough ask to get him moving around more, approaching somewhere near the minimum levels of effort demanded of every player in the squad.
Now as our only prima punta (its of little use to anyone including Bendtner in this analysis), it is to be expected that Matri would be our most efficient at scoring goals. Also getting in on the act of assisting since he is most active in the 18 yard box and as often looking to get on the end of things as to be the reference point in attack for the marauding midfielders and wingbacks to play off. His form at the start of the season was not great, leading on from a worrying period towards the end of the previous term. However, with the new year arriving, and team form as a whole dipping, Matri regained some confidence, and has since gone a steady run of improvement all round. The 2013 Matri is valuable to our cause and proves the importance of having a player in the team who can not only shoot clinically in the 6 yard box but also, of huge value to the team, make intelligent runs across and behind opposing defences. His lay-offs and positioning have jumped up a level since the dark days of late 2012 and I hope he can maintain his fine form.
Fabio Quagliarella is by far the most efficient striker this season. And yet he has played the least amount of time of the four under the spotlight. His achievements are all the more remarkable considering the lack of playing time, and in turn the lack of opportunity to gain match sharpness and momentum. There is also the small matter of his horrid injury sustained in January of 2011 which kept him out of action for a large part of that year. He featured a fair amount in the last campaign, but not as a starter (9 starts/14 sub apps) and it was hoped that this season, after a string pre-season he would return to the high levels shown before his injury.
It seems that he is returning to those high levels, but his relationship with the management is a more powerful consideration than his value to the team on the field. Ever since those angry words disguised through his jacket, when subbed for Giovinco by Alessio, has our most potent striker been punished???
Now and then I feel a wave of unease wash over me. A wave which hints at a personality cult. For our commander in chief has at times, shown flashes of something a few shades away from what we know as lo stile juve.
The Elia case seemed reasonable, although more information regarding his lack of suitability would have been welcome. It wasn't small change we paid for the lad and he had shown flashes of brilliance in his pre-juve career. However, his attitude upon signing seemed...at best youthful and several reports suggested his professionalism was suspect. Ziegler however was a different case entirely. His reputation was one of a solid, hard working LB, which was exactly what we needed. Conte didn't even give the swiss international one competitive game to prove his worth. He barely attended a training session before his bags were packed, perhaps by Conte himself, and he was shipped off, and that was his Juve career over, before it had even begun. What the hell happened there remains open to debate...
Its understandable that the Mister was wired and volatile after the incredibly unjust ban dished out by the FIGC. Justice has since been done, in a loose, optimistic way, with the same man charged and convicted of 'failure to report' recently voted manager of the year by his peers after the amazing team transformation and unbeaten march to the scudetto last year, but nonetheless during and after the suspension, Conte was pushed to the limit. And it showed.
With the embers of unjust trauma still burning fiercely and uncomfortably in mind and heart, it was an unhinged Conte which berated the referee after the Juventus- Genoa game. Its the first time I have seen a Juventus manager behave without dignity or class. I can understand the players behaviour, which still needed censure, but Marotta only made things even worse. He has a lot to learn of lo stile Juve, and Conte also could do with a reminder, for whilst winning is important and expected, its winning with class, with humility, with dignity, which has been the Juve way for as far back as I can remember.
Is Quagliarella's card marked??? Cross Conte once and you are finished with Juve??? This could well be the case. Others will point to the useful runs and link-up play that Vucinic apparently brings to the team with enough consistency to warrant his high placing in the pecking order. My own personal inkling is that Fabio Quagliarella is of a stronger ego than Conte wants in the squad. Perhaps the same was sensed in Reto Ziegler. And rather than a case of putting Self before club, which seems to be the common opinion of Elia, the Swiss and Neopolitan may well have both made the mistake of putting Self before Conte.
Personality cult or not, after last season's herculean recapture of the league title, this term's magnificent return to the champions league, the situation in the league - even after our traditional dodgy January - still mighty and the consistency and quality of the team during Conte's absence, I am in no position to criticize, and have many reasons to daily doff my hat to Antonio for he has regained our pride, strengthened majestically our reputation and has our club and team on the fast track to returning to our position as one of the continents elite clubs. And for this, I can only be thankful, enthusiastic about the future and like all Juventini the world over, gleeful to have our former captain as our mister.
---
Ganja God

Posts: 6639
Joined: Tue Jul 16, 2002 6:07 pm
Location: south
Contact:
Buffon-
Commanded the area well, made a few top drawer saves although almost found himself in hot water when opting to punch a shot away, rather than tip round the post or catch, and presenting an easy chance for the follow-up which Napoli thankfully missed. Busier than he has been for a fair few games. 6.5/10
Chiellini-
Wonderful to have him back in the team. His tenacity, spite, grit, cultured thuggery, strength, pace and natural quality in the challenge both on the ground and in the air...and his goal. In the first half our defence looked incredible, and the main reason was Chiellini's return. Enjoyed an at times tense scrap with Skeletor Cavani, which really should have led to a Yellow for Giorgio and Red for the Uruguayan. Welcome back, kaiser...7.5/10.
Barzagli-
His calmness under pressure is world class. No doubt about it. Since his arrival at the club he has been as much a metronome as Pirlo, albeit from further back in the line-up. A model of consistency and self assurance. 7/10.
Bonucci-
That famous Cure of Bonucci returned today at such an inopportune moment (with us a goal to the good and dominant in the lion's den). Such a shame that his head, glancing at a ball which he had to try block, redirected the ball past Buffon and into the net for 1-1, and combined with the lack of a Red card for Cavani to encourage Napoli hugely. He was out of sorts today, and could well have scored a far more awful own goal had it not been for Buffon's careful positioning and lynx like reflexes. He shouldn't be blamed for the equalizer, but he was far from his best today. 6/10.
Peluso-
One of his best games in our colours so far, and fast becoming not just a reliable back-up, but serious challenger to Asamoah, who may well be focusing more on getting some time in the central midfield area if Frederico continues to show more comfort, poise and talent in the Lwb role. Got forward very well, made some great challenges, never beaten for pace. Starting to look more and more like an intelligent transfer. 7/10.
Lichsteiner-
Conte was always going to opt for the reliability of our Swiss locomotive when facing a team who launched the majority of their attacks down the flanks. Stephan didn't disappoint defensively, as is always the case, yet at the other end, his final ball was more miss than hit. Its the pay-off when choosing him over Isla. The Chilean has the potential to be far more useful in the final third, but defensively, is he anywhere near Lichsteiner??? Probably not, especially when his best form of the Udinese period which prompted us to sign him, was produced in a position closer to a true winger in a 4-3-3 or 4-4-2. Dependable and never in danger. 7/10.
Marchisio-
Was more involved than perhaps seemed clear, doing much of the leg work in midfield, covering, hustling, linking up play between the back and wings and front men as swiftly as possible. We could have done with seeing more of him in the final third, but it wasn't for lack of effort. He is a smart player, who realizes the importance of cover at the back when others bomb forward. Maybe a touch quieter than we would have liked, but hardly a poor showing. 6.5/10.
Pirlo-
Given a surprising amount of time on the ball, but with our forwards well marshalled and finding it hard to find space to run into, Pirlo's options were always limited. His cross for the goal was marvellous. Struggled a bit in the second half, as the partenopei onslaught came on strong. At times, he shows a worrying tendency to stop running when fouled, or when he believes he has been fouled, preferring to remonstrate with the referee instead of getting on with it and retrieving the lost ball. At some point this will land him, and us, in trouble. Battled well though it wasn't a vintage showing from our regista meravigliosa....6.5/10
Vidal-
Was our brightest star in the first twenty minutes, throwing himself into attack, muscling his way around the midfield and finding himself often in advanced positions. He was closely shadowed by Napoli whenever heading towards the box, but still continued to carve out space and try bring into play our wingbacks and forwards. Seemed to have more opportunity to attack than our other central midfielders. His tenacity remained throughout, digging deeper in the second half to shore things up in front of the defence. 6.5/10
Vucinic-
Did what he could do tear holes in his reputation as a big game player, through missing a chance one on one with the keeper which he really should have scored, then failing to control the ball when put through in the area once again. The highlight of his night was a fair effort from 20 yard out or so, which was never going to truly trouble de sanctis. Didn't seem as involved as his strike partner, yet wasn't subbed until the 85' minute. Whether he is an attacking midfielder or second striker or wing forward, he was below par today, in a game when we needed him to be on song. 5.5/10.
Giovinco-
Got involved all over the pitch, made a few nice dribbles, earned several important free kicks, lost the ball annoyingly in front of our own area and managed a decent shot. Marginally more useful than Mirko through his effort and pace, and he also managed to put a couple of quality crosses into the box...Once he went off I didn't see us scoring other than through a Pogba thunderbolt if he found the chance to shoot from range. Far from awful...6.5/10.
SUBS-
Matri/Pogba/Padoin- N/A
Conclusion
We were in total control in the first half, deservedly taking the lead through a beautiful assist from Pirlo and great leap from Chiellini. Passing well, defensively immense, maintaining possession. Vucinic should have made it 0-2, but his tame shot was saved by De Sanctis. The deflection of Bonucci was cruel, and certainly a case of misfortune rather than quality on the part of Napoli. With that strike, the wind seemed to changed, bringing with it a gust of luck into the Neapolitan sails, which they took great advantage off in the second half and whilst not dominating us, certainly asked several questions which we answered politely without managing to ask any of our own in response. A draw away to our major rivals for the title is fine, especially as our head to head with them is now finished in our favour, giving us the advantage and scudetto if we finish up on equal points come the end of the season.
Matri could have been introduced far sooner, in place of Vucinic. Pogba could have appeared sooner also, but then again, in such a high pressure game, I can understand why Conte was playing it somewhat safe.
Cavani should have been sent off. Vucinic should have scored. We conceded an unlucky goal...did we do enough to merit a victory on our performance?? Probably not. We bossed the first half, they bossed the second. A draw is a fair result.
So with 6 points separating the teams, the toughest games we face on paper are Inter and Lazio away, and AC Milan at home. Whereas Napoli have in turn, AC Milan and Roma away, Inter at home.
Some progress made then, in terms of we took a step closer to the title, kept Napoli the same distance away as they were before the game. The lack of a more adventurous roll of the dice in the second half is better explained by the mister...
Conte-
"Napoli were much more careful after the break, sitting back and leaving us possession in midfield so they could attack the space. Inevitably you have to calculate the options in these games, as there was no need to go crazy on the attack or run unnecessary risks. I consider that a show of maturity from the lads."
---
Ganja God

Posts: 6639
Joined: Tue Jul 16, 2002 6:07 pm
Location: south
Contact:
Juventus v Catania

Buffon-
Showed alertness and his usual classy zeal through mopping up everything thrown at him, commanding in the air, solid with the handful of shots that came his way, comfortable throughout. 7/10.

Barzagli-
He has become a monster. Extremely hard to beat one on one, his physical strength, as with the other two beasts at the back, coupled with a sound footballing mind and fairly quick legs for a big fella make him surely one of the finest defenders in Italy. Also produced several brilliant long passes, a part of his game I have seen emerge more this season. 7/10.

Bonucci-
Leonardo has really matured this term, finally showing consistency in decision making and whilst some of his distribution is wayward, more of it is useful. A fine showing, with little getting past him. In a 50/50 challenge I fancy him every time. And so does the attacker, hence attempts to pass or hold up the ball when faced with Bonucci, rather than attempt to go through or around him.7/10.

Chiellini-
Perhaps due to Asamoah's awful showing, Giorgio felt it necessary to involve himself further up the field. Whatever the reason, his typically beastly defensive work was marred by the haphazard nature of his forward runs. At times, he bordered on becoming a liability in the opposing half. 5.5/10.

Asamoah-
His worst game in a Juve jersey. Lacking confidence when heading forward, uneasy in the tackle, very few deliveries into the box, seemingly preferring to turn and pass sidewards if not backwards. This wasn't helped by the lack of presence in the 6 yard area, yet still...Asamoah was poor and with Peluso in such fine form of late, the Ghanaian better up his game sharply or face the bench...5/10.

Lichsteiner-
The old battle-axe fought hard, outshone his opposite on the left flank with his defensive and offensive game. Linked well with Pogba, and was kept busier than hoped for by the pesky little forwards of Catania. Could do with a break against Bologna, but still held the fort in this one. 6/10.

Pirlo-
Another player who didn't have the best of afternoons, with many a pass going astray. His tendency to lose the ball in key positions is of increasing concern, especially when married to a conviction to turn to the referee whenever he loses the ball, rather than instantly give chase to attempt to atone for his error. Needs a break, or a kick up the arse from Conte.5/10.

Marchisio-
Off the pace, and out of sync with the rest of the team. Claudio seemed lethargic, despite the misfortune of his stabbed effort past the post. A strong case emerged for Pogba/Pirlo/Vidal. However, he is such a wonderful player we can forgive him this poor performance. Did little brilliantly, but nothing woefully. 6/10.

Pogba-
By far the best player on the field. His physique, drive, bravery, pace and heart are all developing at an astonishing rate and its become now, common-place, to see too much class in the 19 year old to believe anything other than he is going to be a world class player. Hopefully, in our colours. Man of the Match for his endeavour, responsibility to defend as well as support and become the attack al aligned with considerable tenacity in the tackle. I haven't seen such delightful technique and Spartan muscle combined so beautifully since Viera made his debut for Arsenal in the mid 90s...raw around the edges, a true legend in the making..9/10.

Vucinic-
He managed one decent shot. Link-up play was abysmal. Won very little in the air or on the ground, seemed sick, and on occasion it felt like the team gave a collective sigh when yet another ball was passed to him and he either fluffed his lines or ran the wrong way. Should have brought Quags on to replace him after half time. 5/10.

Giovinco-
Appeared more alive than his poorly partner in the final third and certainly buzzed around more, won some useful free kicks, showed good pace and determination, yet ultimately offered nothing more than an eager to please link-man operating between our midfield and the opposing defence. I don't like these two playing together, no matter what the statistics suggest. Never enough presence in the box for my liking, which narrows the channels of our play going forward.

We are never going to get the best out of Giovinco if we continue to play him in a role which demands more running back than is natural for his best game to appear, and also, to make matters worse, placing a strike partner alongside him who blows far more cold than hot. 5.5/10.

Matri-
Excitable and desperate to get involved in the fray, with the clock ticking he didn't once refrain from hustling the opponents and his good work helped in the build-up to the goal. Not long enough to settle into a comfortable flow but did what was asked of him. 6/10.

Quagliarella-
One save at point blank range which he could have done better with, and then a decent shot from just outside he box. A shame not to see him arrive on the field far sooner, preferably from the start. More at ease playing with Matri than Giovinco was with Vucinic, whatever that may means...though we had tired our opponents by this point in the game. Which counts for something, to some people. 6/10

Giaccherini-
I proudly take the credit for adorning the squeaky imp with the nickname 'the little goblin' many moons ago, which I have seen since adopted by many others. One of those moments of inspiration which come regrettably too seldom...The same winds responsible for my attempts to disseminate Frederick' Kruger' Sorensen, given his apparent idolization of Nightmare on Elm Street hero Freddy Kruger...Still, back to the little goblin...
...He was useful last season. I concluded quite quickly that he was not a great footballer, but extremely fit, pacey, a bit of a wriggler and capable of doing exactly what Conte tells him, in terms of where to run and when. He managed some very useful goals in games when our lack of outstanding talent in offence was directing us towards a draw, and he kept pestering and hustling and sliming his little goblin paws all over the opposition, until finally, he triumphed. His major value is persistence. As proved the case yesterday. I was cursing him, watching him lose the ball time and time again, his passing not good enough for Pro Vercelli let alone Juventus. I almost started to feel sorry for him, but settled upon cringing. Shaking my head in disgust, he scored the goal...from a 4 he jumped up to a 9, because that goal, for which we had been hunting high and low for the best part of 93 minutes, put us 9 points clear at the top of Serie A. 9/10.

Conclusion-
We dominated -mostly- but Catania held their own admirably. A little more luck and we would have won the game long before Conte made the substitutions and Giaccherini scored the amazing winner right at the death. It must be especially demoralizing to have played so well, often pinging the ball around with pace and accuracy and intelligence, and then, be undone so late on, by of all players, the little goblin. I have sympathy for our opponents. Only teams like Inter and Napoli and Lazio to some degree, deserve to suffer 'defeat by Goblin'.

Pirlo, Vucinic, Marchisio and Asamoah were all off the pace, with Pirlo looking worse only because he is the main pivot of our team, with everything flowing through him. Perhaps I have been a bit harsh on the marvellous gypsy-queen, but he has set very high standards and I expect more of him than the repeated petulant turns to the ref whenever he is tackled and dispossessed.

Peluso must come back into the line-up next week for the ghanaian has returned from south Africa, not even half the player he was when he left us. We can't afford to be nursing players back to form in this crunch period at home and in Europe. Conte may well have to make some tough decisions. Peluso for Asamoah isn't one of them, but the following will be-

Vidal has been in fine form, arguably one of the best midfielders in the champions league this season. His league efforts are of comparably high standard. Pirlo has to play, given his incredible technique on the ball, but what of Pogba? The Frenchman oozes class and completely over shadowed Claudio in this game. I am not suggesting he is a better player than Marchisio, only that he is in brilliant form physically and mentally.

Vucinic was poor yet again, at times atrocious. After bearing witness to the basic but potent connection between Quags and Matri in the week, it was horrible to see Mirko so unable to connect well with anyone in the final third. One wicked effort is all he had to show other than plentiful poor dribbles, failed hold-ups and slothful runs. Matri and Quags both seem more eager, more determined and more capable than both Mirko and Giovinco. La formica atomica played well enough, but he needs a stronger running front man, to really show his best, and also, better support on the left flank coming out of defence. Asamoah's horrors-how didn't help matters there.

I'd be tempted to go for a-
Buffon
Lichsteiner Barzagli Bonucci Chiellini Peluso
Vidal Pirlo Pogba
Matri Giovinco/Quagliarella
next week, away to Bologna.

With our attempts to bite and rip up-front lacking incisors, I focused instead on the positives, which were all about the defence. Bonucci, Barzagli and Chiellini are one of the greatest back lines I have known, not just at Juventus, but of all teams. Their physicality was a nasty experience for the Catania forwards and wingers, as it often is for whoever faces them. Barzagli's passing was worthy of Matthaus. Or Beckenbauer. Bonucci remains jagged at times, but that famous lack of composure has improved dramatically and his calmness and tackling abilities make him immensely more valuable than when we first snared him. Nothing much needs to be said of Giorgio. His attacking play is sometimes useful and sometimes wretched, the latter today, but in his own backyard, he was his usual indomitable behemoth. As a unit they keep getting better...The purchases of Bonucci and Barzagli both now seem like genius business by a much maligned transfer director...


A hard fought win, which came about with several key players performing well below their high standards. Constructive moves from the bench by Conte, and I can't fault his selection. We haven't played amazingly well very often since the new year, but have found ourselves 9 points clear with 10 games left. Many reasons to be cheerful...
---
Ganja God

Posts: 6639
Joined: Tue Jul 16, 2002 6:07 pm
Location: south
Contact:
Torino 0 - 2 Juventus

Torino certainly aimed for a counter-attacking routine, hopeful of taking advantage of whatever chances came their way through the rebounds of our constant, ponderous attacking play and possession. I saw that same predictable pressure game, where we move the ball left, then right, then left, then right, trying slowly, slowly to find a through ball. Its an area where we truly have to improve if we are to develop further as a team. Its not a lack of zeal or tactical nous on Conte's part…more a reflection of making the best of what we have at our disposal.

Vucinic was yet again, as he is at least 3 games out of every 5; pathetic. His touch, vision, strength, pace were all atrocious for a trequartista/lone striker/attacking midfielder…whatever position in an offensive role you can imagine. And everyone who watches Juve regularly will accept that this was not an isolated incident. I hope he is sold in the Summer.

The 3-5-1-1 is an interesting idea, but Marchisio is far from a world class support striker (his best work is more central in the midfield where he can hustle/intercept/begin and be a part of the attack/arrive in the box late) and Vucinic is never a man to lead the line with any potency (for starters his shooting is regularly woeful and he can't head the ball)

This lack of dribblers, of flair, of players confident enough to take a man on other than with a quick burst of pace down the flanks, will hurt us when we come up against robust defensive teams and also, teams which can match us defensively and dribble past our players in our own half. We have hugely lacked a fantasista since DP left the fold and I strongly expect Beppe, Paratici and Conte to focus on this gaping hole in our repertoire over the summer mercato period. Muriel would be interesting…Quintero is another option. We can not afford the Riberys and Ronaldos and Hazards, so we must take a punt of sorts on a natural dribbler/ flair merchant who is young, hungry and relatively cheap.

Llorente is a great piece of work by Beppe and his team and also a sign of the progress we have made since Conte picked up the reins. The spaniard would not have been short of better paying suitors, but he has decided to invest what are often a striker's best years age-wise, into the project well underway at piedmont. Our allure and prestige are growing.

Add to the team a proper left back and allow Asamoah to challenge at CM and back-up at LB. Also a fantasista in the channels between midfield and attack or a Jovetic, and we will be making very sure progress.

As for the formation…If we can add some flair and creativity to the front line, a la Jovetic or Muriel, we could well try a Marchisio Pogba Vidal midfield. Also…we will have Pepe back for next term, so a 4-3-3 returns to the table of options.

We have improved this term when it comes to breaking down resolute ten men behind the ball opponents. However it still often seems at times that we win through on the luck we have forced and through attrition, rather than through a moment of magic. A split second piece of fantasy which would unlock any defence and present a clear goal scoring chance. Pirlo's passing is often a joy to behold, but its not enough. Pogba takes more weight of responsibility to drive forward from Pirlo's shoulders than any other in our team. That much becomes more apparent the more they play together. Rather than just worry about Pirlo, opponents have to worry about Pogba, whose distribution qualities are blossoming beautifully. Add his brilliant passing and improving creativity to his immense strength, powerful shooting and eagerness to drive forward with the ball at his feet and we have a player on our hands, who by midway through next season I expect to be one of the the first two names on the team-sheet in midfield alongside Vidal. Both players make their presence and ability felt more heavily and more consistently than Marchisio and Pirlo. It would be interesting to see a midfield-attack combination such as…
Vidal Pogba Asamoah
Llorente Jovetic/Muriel

Such talk can wait.

A welcome victory in the derby della mole. Let's crunch Palermo and take the title in style next weekend…
---
Users browsing this forum: No registered users