Connect with your social network account
Moderator: Moderators
Ganja God

Posts: 6641
Joined: Tue Jul 16, 2002 6:07 pm
Location: south
Contact:
Rather than create a new thread for every news piece, we can add our news reportage in this thread...

I will start the joint rolling!

The russian federation has unanimously approved Putin's request to send troops into Ukraine. The approval does not mean that armed forces will be heading straight into Ukraine, but it gives Vlad the option to do so, if he considers it necessary.

Background to this story is the US/EU supported, directed and funded 'uprising' which has deposed a likely corrupt, but nonetheless democratically elected leader in Ukraine. More than half of the population of the crimea region of Ukraine, an autonomous area, are russian, pretty much through and through.

What is important to note here is that Russia's Black Sea fleet uses the crimea region as its station, its home, its major port. Now given the Syrian issue, as well as the Iranian issue, it stands to reason that anyone against Russia's stance on those matters, would be rather eager to ground the Black Sea Fleet.

Obama was openly threatening Russia a day ago, basically saying that the US will punish any russian political or military interference in a situation where the US are interfering, politically, and probably militarily. For Obama to fall back upon suggesting he will stand alongside the 'international community' is disgusting. That is the same 'international community' which is jolly to see Israel crushing the palestinians, the same 'international community' who wants to get rid of Assad in Syria, the same crowd who wanted to get rid of Saddam and Gaddaffi...It is not coalition of the righteous. It is NOT the international community. Such ludicrous deceit is nothing short of despicable, patently obvious propaganda...

Most important to note here is that the leader of the Crimea region ASKED Russia for help. There is a legal agreement in place for Russian troops to be in the Crimea region.

Its not Russia who are breaking any laws here...its simply more of the US/EU axis of terror at work aiming for hegemony of the world. Unfortunately for them, Russia are not Libya, or Syria, or Iraq. They are one of the most powerful nations on Earth and they WILL fight if pushed.
---
Ganja God

Posts: 6641
Joined: Tue Jul 16, 2002 6:07 pm
Location: south
Contact:
As the US secretary of state, John Kerry, headed for Kiev, the Russian foreign ministry accused him of being a cold warrior '
German officials denied US reports that the chancellor, Angela Merkel, following a phone conversation with Putin, had told Obama that the Russian leader had lost touch with reality.
Both snippets above taken from -
http://www.theguardian.com/world/2014/m ... tin-crimea
Such a shame that the Guardian is becoming solely valuable as a sports network for their solid coverage of football matters at home and abroad. As for their attempts at objectively reporting on anything more complicated than a match of football, the above article is the perfect example of the abominable lack of quality...a hotchpotch of (intentionally) poorly researched gobbledegook propaganda.
The US secretary of Hate is a cold warrior eh???
It's a little odd to talk of an invasion when they are allowed 25000 troops in the region, were invited in by the Crimean authorities, have their largest Naval Base in the region and the Russians and Russian speakers in Ukraine appear to be facing a fair amount of trouble.
What kind of brain-dead morons swallow the spoon-fed tripe blindly and without tastebuds??
Saddam is evil and will kill us and killed mandela. Lets kill him and ruin his country.
Gaddafi is bad, lets kill him and fuck up Libya!!
Assad is a tryant, lets arm the same crowd who blew up the twin towers and destroy him and his country!!!
Iran lets us inspect their nuclear stations, hasn't invaded another country for many moons and its religious leader has outlawed nuclear weapons...but Israel says they are going to nuke them, and Israel like breaking international laws and invading neighbouring countries, so...lets go with Israel. BOMB IRAN!!!
Its laughable to read of Power talking of international law...of comic book jaw Kerry making his hollow threats and condemnation, of Obama the greatest deceiver, the modern devil of the 21st century, talking of Russia been on the wrong side of history. The US is perceived, rightfully as the greatest threat to peace in the world...they know this of course, are likely proud of it, as proud as they are of their despicable duplicity presented on a global scale.
How many shots have been fired by Russia?? How many guns and bullets supplied by the EU and US to the neo nazi extremists who ousted the government by force???
The only world leader showing any dignity in the circumstances is Vlad. Which likely infuriates the pigfuckers of Washington and Paris and London...
And why bother to ask McCain??? His only claim to fame is been captured in the Vietnam war...worse still is that his answer to every conflict is THE US IS RIGHT AND HAS A DUTY TO KILL EVERYONE BUT OUR ALLIES, TO PROTECT THE WORLD FROM ITSELF SO LETS KILL SOME MORE PEOPLE.
Another astonishing fool with too loud a voice on too large a platform.
---
Ganja God

Posts: 6641
Joined: Tue Jul 16, 2002 6:07 pm
Location: south
Contact:
'Today the world can see that the United States is united with our allies and partners in upholding international law and pursuing a just outcome that advances global security'
Obama
Hype Man for Murder Inc Pty Ltd,
I am not part of the world Obama was referring to with the above statement recently delivered as part of his lengthy propaganda mission aimed to demonize yet another leader of a sovereign state. I can see that the US is united with its allies, but the 'upholding international law' part if worthy at best of a scowl, at worst of wild, uncontrollable rage.
The US simply does not have any form at all for upholding international law. It has form, stretching back many decades, for precisely the opposite. Without going into detail of the horrors engineered in Latin America and the vietnam war by the US, we have plenty of examples from the more modern era to back up my claim, validate my stance.
Iraq, Afghanistan and Libya spring instantly to mind. The US invaded these countries, in two of those cases, occupied them militarily and still do to this day. Saddam may well have been a rather prickly character, to put it mildly, but he was a friend to the US for many years. Prior to the most recent invasion of Iraq, the country enjoyed one of the finest education systems in the region alongside again a very high level of health care. Its a blood-bath now. As is Libya. And what of Afghanistan??? The war was not won, scores of people died, the Taliban were not defeated and now the slow retreat is in progress.
Then there is Syria...Where support, financing and weapons were given to groups from outside of the country who took it upon themselves to slaughter en-mass, behead at will. Did it come as any surprise to find the very people that the US, UK and France were supporting were part of Al-Qaeda??
News like that should raise alarm in anyone with a fully functioning brain. As should such events as the staged chemical attack in Damascus. Assad may not be humanitarian of the year, but he is far from an imbecile. Yet only an imbecile could believe that he would invite UN chemical warfare inspectors into his city, then launch a chemical attack next-door to them...Kerry, Cameron, Hollande and Obama were quick to condemn such an outrage, yet the truth of the matter is that such an incident of mass propaganda is indicative of the perceptions of the people living in the West of the leaders.
If I told you of a man under investigation for murder, who invited the police to search his home, and literally straight after they arrived with their forensic equipment and shiny badges, nipped next-door to slaughter the neighbours, then when the bodies were found screamed his innocence...would you shrug your shoulders and say 'well, he obviously couldn't help himself', or would you question the credibility of the story.
We all thought Hilary Clinton was awful, the Queen of diplomacy who last week compared Putin to Hitler...but this genius is breaking new ground, fresh from his some say monumental blunder from late last year, when he told reporters...
"Sure, he could turn over every single bit of his chemical weapons to the international community in the next week - turn it over, all of it without delay and allow the full and total accounting (of it), but he isn't about to do it and it can't be done."
The problem there was he had no authorization from the Shite House, and Assad did indeed take up his offer...hohoho! Much to the chagrin of the Washington warmongers, with a little help from our dear friend Vlad.
Let's raise the stakes a little. In Assad's case, has he committed such a blunder he would have been giving the green light for a western invasion of his country.
Syria is interesting, for it was Russia's intervention in the discussions, which thwarted the advance of what Obama and that pitiful fool Kerry routinely refer to as 'the international community'. What they mean when they use this term is 'the US and its allies'. It just sounds prettier and more Right when its transformed into 'the international community'.
From Pinochet to Suharto, the House of Saud to the Taliban, US history confirms time and time again that Washington has no history whatsoever of upholding international law, and a huge history of supporting whichever regime suits their interests.
In terms of the real picture of modern US foreign policy, take a peek here>>>
http://www.globalresearch.ca/the-worldw ... bases/5564
I could and will do another time, go much deeper with the list of crimes committed by the US, but I need to steer this ship towards Sevastopol...
One of the key issues of the Syrian blood-letting epidemic, was geopolitical strongholds. Russia's strong and sturdy opposition to all efforts from the West to intervene militarily was clearly not solely rooted in humanitarian concern and a standpoint of fairness. The port city of Tartus (Syria) was home to a small naval fleet of...Russia. They had been there since 1971. The deep water port was able to home the nuclear equipped submarines of the Russian naval fleet.
However, the facts on the ground seem to suggest that the port was not the lynch-pin of Russian power in the region...
http://www.bbc.com/news/world-middle-east-18616191
The port was evacuated by the small contingent of Russian military during 2013. Important to note is that this had zero bearing on Russian policy. Which leads to the conclusion that Russia were not defending Assad due to fears of losing power. Losing trade perhaps, given the large amount of military sales to Syria.
Fast forward to Ukraine...which also has a port leased to the Russian Navy. Sevastopol is home to the Black Sea russian fleet.
Crimea is an autonomous region of Ukraine, with its own government, its own laws, its own politicians. Nearly 60% of the Crimean population are Russian. Russia have a lease for their fleet to be stationed in Sevastopol which runs until 2042.
Part of this lease involves an allowance of up to 25000 Russian troops to be stationed in Sevastopol.
The leaders of the Crimean parliament asked for Russian assistance. They also voted unanimously to join the Russian Federation, with a referendum to be held within the next fortnight.
So...Russia have held the lease for the last 15 years, they are legally allowed to place their troops there and the autonomous Crimean government has decided the region wishes to become part of Russia, separated from the developments occurring in Kiev.
Russian foreign minister Sergi LLavrov recently said...
'" The Russian military strictly executes the agreements which stipulate the Russian fleet's presence in Ukraine, and follows the stance and claims coming from the legitimate authority in Ukraine and in this case the legitimate authority of the Autonomous Republic Crimea as well."
For Obama and his lapdogs to refer to the Russian troops LEGALLY stationed in Sevastopol as an invasion, the decision of the legally elected, legally government parliament of Crimea to join the Russian Federation and hold a referendum as violating international law appears vast manipulation of the facts.
What of the uprising which has led to this??
Corrupt, dodgy as hell, recently deposed Ukraine President Yanukovych was ousted by force. There can be no doubt about that. How does that fit into Obama's idea of 'international law'???
The day prior to the armed ousting of Yanukovych, the president had agreed to begin a period of transition, agreed to demand his police step down, the demands of the leaders of the uprising were met. Why then, with that in the bag, the very next day, force his government out at gunpoint???
When we are told there has been an 'invasion' we expect to see bodies, blood, casualty counts. There have been none, since the armed coup which led to the deposing of the democratically elected ukranian government.
Times Man of The Year, Vladamir Putin.
As the man whom Hilarious Clinton recently compared to Hitler said last week...
'"We have to remind them about the U.S. action in Iraq, Afghanistan and Libya, where they acted without any sanction of the United Nations Security Council, or wilfully interpreted its resolution as in the case of Libya," he said. "Our partners, particularly in the United States, always clearly formulate their geopolitical and state interests and aggressively pursue them. They try to pull the rest of the world under them and start hitting those who put up resistance, eventually finishing them off, as a rule."
No corners cut there, Vlad...but with what are we we left???
Before I leave this alone, I must surely mention the energy matters...Namely that Russia supplies a fair amount of gas to the EU via Ukraine (of all countries!).
The scene, when taking into account more than solely the headlines conjured by the West, seems to be...a case of legitimate uprising, leading to an armed, and likely supported by outside parties ousting of the legitimate government. Crimea is autonomous, has asked for Russian help, the Russian troops are legitimately in Crimea. The Crimea government wants to be no part of the armed uprising in East Ukraine and has openly, officially sought affiliation with the Russian Federation.
No invasion has occurred. No war has begun or been threatened.
Tread carefully in where you stand and listen. When a man like Obama who has lied over and over and over again, presided over all the worst work done by his predecessor, and made everything more brutal, developed a kill list, expanded the military industrial complex which put him into power and keeps him in power, behaves as if he is the global policeman...surely its time to say FUCK YOU OABAMA.
I am not suggesting that Putin is a decent chap, but when the President of the US is talking of 'threats to US security' and spouting lie and after lie after fucking lie, at some stage, surely anyone capable of objective appraisal will ponder things more carefully.
Personally speaking, it disgusts me, to read the headlines of the major media institutions of my homeland and the US, and to find these headlines at odds with very easy to obtain facts about the real situation. I hate people lying to me...Its patronising and when it potentially affects millions of lives, its downright evil. Which is how I view Obama. The present day Devil. The slick hype man of Murder Inc Pty Ltd...
we are living in a repeat of the Priests and Slaves routine set out many centuries ago by the Mayans. At some point, the Slaves will revolt...Will you???
---
Ganja God

Posts: 6641
Joined: Tue Jul 16, 2002 6:07 pm
Location: south
Contact:
Despite the complete absence of any talk of nuclear warfare, former vice-presidential candidate Sarah Palin has weighed in to the Ukraine debate with words of diplomacy and altruism...

"Mr President, the only thing that stops a bad guy with a nuke is a good guy with a nuke."
said Palin yesterday.

I remain unsure of how such a stance is intended to cause anything but either concern for Palin's mental well being, or far more sinister sensations.
---
Ganja God

Posts: 6641
Joined: Tue Jul 16, 2002 6:07 pm
Location: south
Contact:
'According to China.org.cn, 19 families have signed a joint statement saying that their family members' cell phones connected, but the calls hung up. The relatives have asked Malaysia Airlines to reveal any information they might be hiding, seeking an explanation for the eerie phone connections. The relatives have complained that the Malaysia Airlines is not responding as actively as it should.'
http://www.ibtimes.co.uk/missing-malays ... ed-1439560
If the above is to be believed, my instincts suggest contact with aliens.
The next option seems a black flag operation by the US government. But to what end???
I'll remain grounded for a while longer, yet its too hard and too illogical to dismiss, the present trajectory of the mystery of Malaysia Airlines MH370. Fake passports and five passengers failing to board seem mere trifles, at this stage.
---
Ganja God

Posts: 6641
Joined: Tue Jul 16, 2002 6:07 pm
Location: south
Contact:
Over the weekend two US senators wrote an open letter to FIFA demanding action against Russia, namely the removal of the hosting of the 2018 world cup and also expulsion of the Russian team from the world cup in Brazil soon to commence this year.
In their letter to the Fifa chairman, Sepp Blatter, Mark Kirk of Illinois and Dan Coates of Indiana, both Republicans, cite the exclusion of Yugoslavia from the 1992 European Championship and 1994 World Cup and say:
"Since Russia has similarly displayed a brazen disrespect for fundamental principles of Fifa and international law, [we] hope you will agree that it doesn't deserve the honour of either hosting the World Cup or participating in one.
"We ask that a more deserving World Cup 2018 bid should be re-considered instead."
(
http://www.theguardian.com/world/2014/m ... -world-cup
)
Whilst it remains to be seen how a western supported, military coup of the Ukrainian parliament, legal placing of troops in the autonomous Crimea region (where Russia are allowed 25000 troops) and the invitation from the democratically elected Crimean government openly asking Russia for protection alongside holding a referendum on becoming part of the Russian Federation relates to the bloody troubles in the former Yugoslavia, there are other issues to ponder.
Firstly, by adopting the warped logic of Kirk and Coates, should the US itself not be removed from this year's world cup? Illegal invasions of Iraq, Afghanistan and Libya seem to have flown under the radars of the venerable senators. Unfortunately the same cannot be said to the three countries which have suffered huge death counts engineered by US foreign policy.
The Russians must surely be congratulated on their efficiency, for their alleged 'invasion' and 'occupation' has a body count presently of 0. Its questionable that a shot has been fired by Russian forces. But lets stick to the football angle...assuming, of course, that the US are exempt from the very laws they see fit to demand others adhere to.
As far as we know, Russia have yet to target Ukrainian footballers. Which would surely – we must assume – be the hook to bring in the involvement of FIFA. The fact that Russia have yet to target anyone is a matter for a different debate. However, there is a country which targets footballers from a foreign country. A country which just happens to be an intimate ally of the US.
From the stadium to the hospital, Jawhar Nasser Jawhar,19, former palestinian footballer.
Whilst returning home from a training session at the Faisal al-Husseini Stadium on January 31st of this year, two young Palestinian footballers, Jawhar Nasser Jawhar, 19, and Adam Abd al-Raouf Halabiya, 17 approached a checkpoint in the West Bank. They were fired upon many times, mauled by dogs then beaten. Adam was shot once in each foot. Jawhar fared much worse, receiving ten bullets in his feet.
Suffice to say, neither of the wounded will ever set foot on a football pitch again. Other than to limp and maintain a keen eye overhead for Israeli war-planes.
The border patrol police explained the situation as follows-
'"During operational activity, a group of individuals was seen just seconds before throwing bombs at security forces. When they saw the Border Policemen, the group attempted to run away and tried again to throw bombs at the policemen. The policemen initiated the protocol for opening fire in order to neutralize the threat. The suspects were apprehended, and a bomb was found on them, which has been deactivated."
Well that clears up all loose ends then!
That is, if you believe that two kids, known for their football, returning from a football stadium, decided on a whim to throw bombs at soldiers on their way home.
When a regime has countless accusations levelled at it, not just by the victims, but by respected bodies on the international stage as well as major players in the international community, revolving around persecution, torture, wrongful imprisonment and land theft of another country, the explanations given for shooting two footballers in the feet, gives rise to suspicion. (When I talk of the 'international community' I am not referring to the same 'international community' as President Obama, for the hype man for Murder Inc means 'The US and its allies', whereas I mean 'country states of the world'.)
And what of Mahmoud Sarsak?? A member of the Palestinian National Football team who was arrested at a checkpoint whilst en-route to a national football competition in July 2009. Held without trial or charges. Deemed an 'illegal combatant'. His family, friends, lawyers prohibited from visiting him. After embarking, out of desperation, upon a hunger strike in early 2012 and gathering widespread support for his liberation, he was finally released in July of that year after 3 years of prison.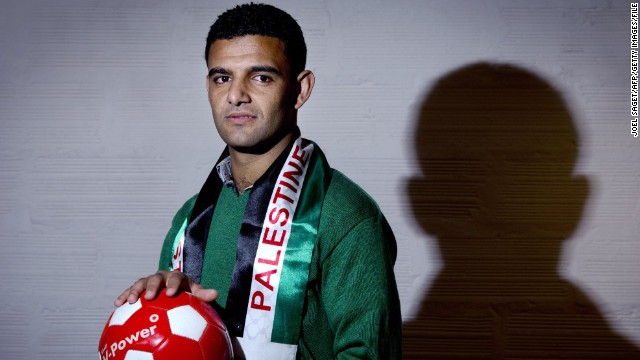 Mahmoud Sarsak, his talents on the field couldn't save him from the IDF.
Whilst in jail, and I cannot help but continue to repeat, with no charges or trial a possibility, Sarsak's cause was picked up by campaigners in London who staged several protests, as well as Celtic FC's Green Brigade. In June of 2012, FifPro (which represents professional footballers globally) called for his immediate release. Joining the chorus of demand for justice was none other than Eric Cantona, Freddy Kanoute, Michel Platini and Sepp Blatter. Renowned dissident and linguist, in my opinion one of the most aware and just campaigners on the planet, Noam Chomsky, voiced his own demands for Sarsak's release the same year.
Amnesty International also got in on the act accusing Israel of 'inhuman and degrading treatment'.
After his release, the footballer has this to say...
First I have to say that sport carries many values. Sport is about tolerance, about humanity. Sport means love and peace. That is the message. Like all peoples of the world, we in Palestine, we want to play sports, especially football.
Israel is a country of discrimination and apartheid. It does not stop at the destruction of homes and trees, but it also wants to break human beings, including athletes.
I am Palestinian and I have a Palestinian passport just like Omar Abu Rouis and Muhammad Nimr who have also been imprisoned. And there is Zakaria Issa, who was also a footballer and was detained. He died of cancer in prison because of lack of care.
You should know that during the war against Gaza in 2008-2009 all sport facilities were destroyed. Several great athletes from Gaza were killed and the building of the Paralympic committee in Gaza was bombed. Mohammed Al Araby here is a witness.
Not only the Palestinian National Stadium in Gaza was bombed, but also that of the city of Rafah.
I will speak on behalf of all Palestinian athletes who live in the West Bank, in Gaza, in Jerusalem or those inside Israel who also suffer from apartheid. We want to use the opportunity of our visit to France to send a message to Michel Platini, to the president of FIFA Joseph Blatter and their employees, to withdraw the organization Israel from the world Cup under 20 years'
In 2009 three members of the Palestinian team were killed during a bombing campaign which also took out the HQ of the Palestinian Football Authority as well as their national stadium.
Then there was the story of Palestinian Olympic goalkeeper, Omar Abu Rwayyis. Arrested when an IDF vehicle was damaged during a visit to a refugee camp near the West Bank village of Ramallah.
Israeli government mouthpiece, Haaretz, reported the incident as follows-
'Thirteen residents of the Amari refugee camp near the West Bank city of Ramallah were arrested recently for alleged involvement in an attempted attack on Israel Defense Forces soldiers two months ago, the Shin Bet security service said Monday.
The suspects include employees of the Palestinian Red Crescent, a member of the Palestinian Olympic soccer team and an officer in the Palestinian General Intelligence Service.
The incident in question occurred on January 20, when shots were fired at IDF forces operating in Ramallah. No one was wounded in the attack, but one IDF vehicle sustained damage.
The suspects named in the attack included Salah Barael, 23, who works as a guard for the Red Crescent and Omar Abu Rwayyis, also 23, who also works for the Red Crescent. According to the Shin Bet, Abu Rwayyis is affiliated with Hamas and is also a goalkeeper on the Palestinian Olympic soccer team.
According to the Shin Bet, the suspects shot at IDF forces using Kalashnikovs, then hid the weapons in an abandoned building. Later, Abu Rwayyis allegedly handed off the guns to another resident of the camp, Ahmed Hattab, who is also employed by the Red Crescent.
After Abu Rwayyis was arrested, Hattab gave the guns to another man, Mansour Abbas, who serves as an officer in the Palestinian General Intelligence Service in Ramallah and is responsible for the guards at the Red Crescent. The Shin Bet also suspects Hattab of dealing in arms.
No evidence was found or reported. I will leave you to make your own minds up about an arrest for shooting at vehicles, in which no weapons were found, but somehow it is known that the guns in question were first hidden, then handed over to friends, then handed over to other friends...all of whom are terrorists.
I see kids enjoying themselves with a football, yet how do they look through a snipers sights???
Its wretched enough that Israel are allowed to place their domestic and international teams within European competition. Wretched, not solely due to the obvious geographical issues, but because Israel have a history of crimes against humanity tantamount to genocide. But there I go again, allowing my eagerness to condemn what appears, time and time again, one of the most clear cut cases of what FIFA refers to as
''discrimination of any kind against a country, private person or group of people on account of ethnic origin, gender, language, religion, politics or any other reason is strictly prohibited and punishable by suspension or expulsion.'"
A score of UN resolutions have been passed against Israel, the majority of which have been vetoed by...the US government.
Should we be surprised that Murder Inc aka the US political establishment, avoid any mention of their own crimes against humanity, and those of their allies, then have the gall to demand Russia are punished for targeting and killing ZERO people in Ukraine.
Further Reading
http://www.ifamericansknew.org/stat/neff-un.html
http://www.thenation.com/blog/167827/wh ... cer-player
http://mondoweiss.net/2013/06/committee ... rture.html
http://www.ifamericansknew.org/stat/un.html
http://electronicintifada.net/blogs/ali ... ined-reach
---
Ganja God

Posts: 6641
Joined: Tue Jul 16, 2002 6:07 pm
Location: south
Contact:
The MH370 situation has become far too eerie for me to pour any energy into a colourful report. Suffice to say, I assume that someone knows something which they are not prepared to mention publicly. As to why??? It could be due to a variety of reasons...one of the most obvious seems that even friendly nations rarely wish to reveal to their neighbours, or potential enemies the world over, the capabilities of their military hardware, including satellite coverage. Whilst the US are powerful enough a country to get away with mass spying, many others are not and it seems viable that if a country did know the story, they could be unwilling to explain how they know the story due to the chance of compromising their own military capabilities and spying agenda.
( Its worth peeking at
http://www.askthepilot.com/malaysia-air ... light-370/
)
In other matters...
John Kerry, the US secretary of hate has confounded even his own supporters with a ludicrous effort at spastic duplicity-
'

you just don't invade a country on phony pretexts in order to assert your interests

'
Such a comment, which he repeated during several interviews, would not have made the script of House of Cards. Why?? Because its worthy of nothing but ridicule, for any half brained human being who has followed events of the last decade even loosely. Iraq?Afghanistan?Libya?Syria?...All illegal invasions with US stamped across all dead bodies.
Obama lies so much he has lost any semblance of truth, but he generally avoids such criminal blunders. I cannot help but wonder what Americans feel and think when Kerry projects such glaring falsehoods??? I understand that there is always a portion of society kept hoodwinked, deceived, but what of the rest??? What of those who consider for even a few fleeting moments...'Libya, Syria, Iraq, Afghanistan didnt invade us, or threaten us, yet didnt we invade those countries???'.
Al-qaeda were supposedly behind attacks on the US and UK, and all of us in the West have paid with our taxes to fund the fight against such 'terrorists'. Yet in Syria, our very own governments, using our very own taxes, are funding al-qaeda in Syria. We are paying for the bullets, guns, military training and organization of the same crowd who blew up the twin towers and caused carnage in London. Such an assertion is beyond mere suggestion, its factual.
And then there is Israel...a country who the UK generally supports and the US invariably arms, gives a fair amount of 'aid'...$3.1bn was requested to Obama for 2014. And why not eh??? Do any Americans ever question why their leaders routinely veto UN security counsel resolutions against Israel and gives them billions of their hard earned dollars every year, when all we can tell from a distance, is that Israel have spent the last 60 years wiping Palestine off the map??
Its all becoming too much for me. Yet I had another subject to broach...namely Crimea.
The US and UK are ostensibly up in arms about the apparent crisis. And a crisis certainly exists, but what is the root and cause??? A Western funded illegal military coup of Ukraine, which threatened the vast majority of the russian speaking, russian in every measure but country label Crimeans. An obvious attempt to remove the black sea Russian fleet from Crimea, and add yet more NATO bases to surround Russia. The plan has backfired. Putin was given what was already his, without a shot been fired...Surely some find it somewhat odd, that the US can be talking of 'invasion' and yet no guns have been fired??
A quick peek into history suggests the UK and US do things rather differently...The Falklands...Gibralter...Kosovo. But they were in the agenda of what Obama routinely refers to 'the global community' when he really means to say 'the interests of the US and its allies'.
I am no cheerleader for Putin, but in these circumstances, what the hell was he expected to do??? Lose money and the major port for his navy, which was already settled for decades into the future?? Ignore the Crimean call for assistance??? Had he taken that path he would have proven himself the tyrant the western media demands we believe.
Its becoming a cruel joke...Our leaders are in bed with al-qaeda...but that can be no surprise, given the FACT that the only country on the planet which holds comparable values to al-qaeda is Saudi Arabia, which just happens to be the best friend of both the Shite House and 10 Downing Street...for example, look at Prince Charles...
---
Intellecutally Wasted

Posts: 7745
Joined: Sun Aug 03, 2003 8:19 pm
Location: Home of the Sioux!
Contact:
Right on Dan, this is very enjoyable and I hope to contribute soon, within the next two weeks.

I will say I think Obama was the lesser of two evils considering it was either him or Sticky Mittens Romney, but I'll get into plenty of that once I have the time to start writing for pleasure instead of work--->2 weeks!!

This may be a little off topic and I apologize in advance, but you live in Australia yet I rarely ever here any mention about that part of the world. What happens on that massive Island out in the Indian-Pacific? What are the Kiwis up to? You're excellent on the reporting when it comes to the superpowers or the middle east, but what about in your corner of the world, what can you tell me?

If it's not your cup of tea, no worries. Maybe I'll start some news updates pertaining to that section of the world, something I used to love to read up on when I was an undergraduate.

Cheers and keep up the solid work.
Get busy living or get busy dying.
---
Users browsing this forum: No registered users