Repelling Deer, Rodents and Other Critters
Deer
Deer have an extremely sensitive sense of smell, as much as six times more so than dogs. Deer are very wary of predator scents such as urine and hair. Of these, urine has the stronger scent and the urine of the deer's natural predators - bobcat, fox, wolf or coyote would probably serve best. One such method is as follows:
Materials:
Small plastic bottle
Cotton balls
Fishing line
Coyote urine (Available from most garden supply stores.)
First you'll want drill or puncture several holes about 1/8 of an inch in diameter around the middle of the bottle. Then stuff the bottle with the cotton balls and soak the cotton well with the coyote urine and place the cap back on the bottle. Hang the bottle with the fishing line from one of your perimeter plants and resoak the cotton every 2 -3 weeks.
There are also natural scents such as putrified (rotted) eggs or the blood based (bloodmeal) deterrants that work well, but must be reapplied after each rain or particularly heavy dew. Strong scented soaps like Irish Spring will work in a pinch, and dryer sheets, like Bounce, torn into strips and tied to the stalks will work even better.
Using human hair is an old tried and true method that requires nothing more than a few inches of your hair or asking your barber if you can have his floor sweepings. Just tie clumps of hair to the stalks to keep deer away. But this method like the blood and soap methods must be repeated after each rain.
One of the simplest, easiest and most effective methods is stringing a strong monofilament fishing line around the perimeter of your grow about 3 1/2 to 4 feet above the ground. I know it seems ridiculous, but deer won't advance past the point where the string touches their chest because deer have a natural fear of anything they feel but can't see.
Of all the methods to repel or deter deer nothing beats a good fence. But since deer can jump 4-5 feet from a standing still position and as high as 5-7 feet on the run a deer fence must be around 8 feet tall or 5 feet tall with a 2 foot section slanted outward to be effective. A double fence will work well as long as it's high enough that the deer can't see above it because deer won't jump into an enclosure they think they'll be trapped in. Fences are ideal when dealing with deer, but not very practical for the guerilla grower that doesn't want to attract attention to his grow location.
To ensure a deer free growing environment I suggest employing 2 or 3 of the mentioned methods and change the set up each season.
Rodents and Small Pests
Since rodents fear the same predators as deer the same urine odors that work with them will work just as effectively with rodents of all kinds. These are a few specific tips that may come in handy for those who prefer to grow outdoors.
Rabbits
Rabbits will avoid the scent of vinegar, so if you save the corn cobs from your dinner and cut them in half you can soak them and scatter them around your plants. You can reuse the cobs and vinegar over and over again too.
Planting a few onions will repel rabbits too. I'm not sure on why this is, but my granny swore by it and who am I to question her?
Sprinkling red pepper, black pepper, cayenne, paprika etc on the ground around your plants will work well as a deterant too. Because bunnies are always sniffing the ground they'll get a snootfull and bolt. (This is one of those methods that needs reapplying after a rain or heavy dew.)
Garlic Oil Spray is an option with rabbits. You'll need the following materials:
3 Ounces of minced garlic gloves.
1 Ounce mineral water
1 Teaspoon fish emulsion
1 Tablespoon Castille soap
1 Empty mayomaise jar
1 Mist sprayer
Combine 3 ounces of minced garlic cloves with 1 ounce of mineral oil. Let soak for 24 hours or longer. Strain. Next mix 1 teaspoon of fish emulsion with 16 ounces of water. Add 1 tablespoon of castille soap to this. Now slowly combine the fish emulsion water with the garlic oil. Kept in a sealed glass container this mixture will stay viable for several months. To use: Mix 2 tablespoons of garlic oil with 1 pint of water and spray on the stalks.
Raccoons and Skunks
Surrounding the grow area with a horizontal border that coons and skunks don't like to walk on such as crumpled up black plastic, newspaper, or aluminum foil. Hold these in place with some rocks, landscape pins, or soil.
Using mesh fencing or chicken wire as a horizontal barrier is probably one of the best ways to deal with these varmints. Raise these slightly above the ground with some bricks to make it even more of a hassle to cross.
Finally, spreading naphthalene flakes or balls around, raccoons hate the taste of this in their paws and they are said to also aid in repelling skunks. Also the vinegar soaked corn cobs used to keep away rabbits will aid in keeping 'coons and skunks away too.
Squirrels
Squirrels will not be much of a problem until the budding stages. To repel squirrels mix naphthalene flakes, gypsum, and chile pepper. Spread around the grow area. The pepper mixture used on rabbits will be effective here as well.
My advice for dealing with squirrels is get stoned and watch them as a source of amusement because they don't usually do enough damage to get upset about.
Moles, Voles and Groundhogs
Spray a solution of 1 tablespoon of castor oil and 1 tablespoon of liquid dish soap per gallon of warm water on the soil around plants.
Some people have had success at keeping moles at bay using hot peppers. Use jalapenos or habaneros, the hotter the better! Keep a bag full in the freezer to have on hand when you need them, ready to use against moles and for your bug sprays. What you want to do is tightly pack the peppers into the openings of the runs using as many as you need. Do this everywhere you find an entrance and at intervals along the tunnels if you can find them. Dig an opening then stuff with peppers. For every spot you pack with peppers be sure to fill it in with dirt and tamp down firmly.
As a last resort and a more permanant solution you can place rolled up pieces of Juicy fruit gum in mole tunnels. Be sure to wear gloves to mask your scent when you unwrap the gum. Moles love it, but it clogs their innards, fatally. Or use Ex-Lax which has the opposite effect.
Rats and Mice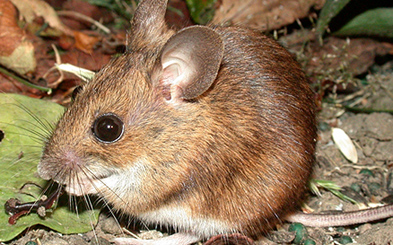 These varmints can ruin an entire harvest by getting into a drying bin and eating your stash. What they don't eat they'll defecate on and ruin that way. A simple yet effective method of keeping them away is to scatter fresh or dried mint or holly leaves as a repellent. The mint works like a charm and it smells good too. Use it everywhere mice are a problem and they will not go near it.
A more final solution is to slice up corks, mix with food grease (bacon grease, hamburger grease etc.) then scent this mixture with oil of anise. Put out for the rodents. They love to eat it, but cannot digest it and die.
Cats and Dogs
If you're having a hard time keeping Fluffy and Fido out of your grow then here's a couple tips that will help you out and won't hurt the family pet.
Try scaring the begeezus out of them by placing mouse traps with the trap side down on the soil. When they are disturbed they will pop into the air and scare the intruder. This will not only work well with dogs and cats, but wild critters will be kept away as well. The trap is already sprung when it jumps so it won't hurt the animals. Also making use of the pepper mixture mentioned before will deter cats and dogs.
http://www.gardenscure.com/cultivation- ... ble-07.php