As well as our top ten caners section, we thought that it was a necessity to include some of the people that epitomize what this site is all about.
We give you the real smokers…
Real Caners
1. Dan.
Dan came onto the scene at the relatively young age of 13. Started off on solid and quickly graduated to skunk and bongs by 14. He caused a sensation at 15 by wining the U16 skunk championships, and further glory has followed.
A chap who certainly lives kind of in his own world, loves his tunes, fast bikes and skunk. A mixture of animal (from the muppets), Guru(from Gangstarr) and Happy Gilmore!
2. Badass.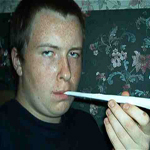 Here we have stoner brother badass about to enjoy his first spliff of the day. Perhaps one of the most accomplished tokers in the whole of the uk, he was ejected from a english gcse exam for not been able to operate in a sufficent manner to be able to sit down or stand up.
A regular to the forums since joining, we hope to continue to attract consumers as highly versed in the art of habitual flower smoking as this young man. Not only has he made it into our top ten, but hes joined the team and become a moderator so he can share his expert knowledge with all.
3. Darkest Kitty.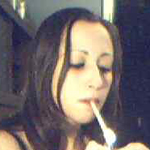 This sultry gallic beauty was raised by elves in the infamous forests of France. From an early age she learned the importance of the holy weed, and has striven to smoke as much is possible on all occasions.
Currently residing in Cambridgeshire, Darkest Kitty delights many with her shapely figure and smoking ability. Kitty favours skunk and blue slim Rizla, the pros choice. She be cool.
4. Chan the Chipmunk.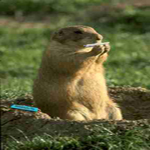 Chan the Chipmonk-. After escaping the Chinese assasins in Tibet, Chan made his way to UK, via India to check out the Bombay gold, he couldn't resist, where he met Swampy. Chan was completely indifferent to Swampys anti-capitalist ideas but they both smoked skunk. Chan was evicted from the famous Newbury Bypass Strike with Swampy. The police sentenced poor Chan to 2 life sentences but fortunately the RSCPB stepped in.
Chan became the first animal to gain a place in Caners of the Year 1998. A keen footballer who once had a trial with Gillingham but failed to make the grade.
Constantly stoned, but always cheeky, that's cheeky chan the chipmonk.
5. Pete.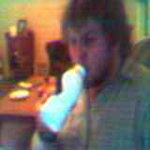 Pete the bong baron in action.
Pete hails from Australia. He has been using this very bong much like his mothers breast since he was 6 years old. Regarded as one of the forefathers of contemporary beards and also home made bongs. Pete seems to posses a bong ethic rather than any type of work ethic! Bearing a striking resemblance to Barney Rubble from the flinstones, he happily tokes himself to oblivion.
6. Brendan.

Brendan's big 'un.
This guy's called Brendan, with his daily joint. Loves his bud, especially purple haze and blueberry. One time he rode a chair down the road and crashed in the tree, got a broken arm and never took weed and alcohol (together), again. He lives in australia, and cant get enough of that wonderful stuff. He's infatuated with the simpsons and will hope to die stoned, laughing prefusely.
*. Add youself to our hall of fame.
Send us your pic and a description of yourself, if we deem you worthy of a spot – you'll find yourself right here.